RIDE THE ERONGOS
3-day MTB ride through the beauty of the Erongo Mountains. Sundowner ride, great trails, awesome food, gin tasting, live music...it's going to be epic!
RIDE THE ERONGOS is a stunning 3-day mountain bike event located in the Erongo Mountains, hosted by Ai Aiba Lodge.
The mountain biking is the key and together with our expert trail builders we have created some spectacular trails. There is a good combination of some interesting purpose built single track trails and some scenically beautiful free flowing jeep tracks. None of these tracks are overly technical and are designed for the average mountain biker who loves spending time on their bike in beautiful places.
The idea behind Ride the Erongos is for friends and families to get together, enjoy some great mountain biking, awesome food, live music and have some fun. There are no timing tags and everyone who enters, whether they ride every day or not, is a winner.
WHAT'S INCLUDED:
2 nights accommodation in luxury air-conditioned rooms at Ai Aiba Lodge
All meals: Friday dinner to Sunday brunch 
Drinks: Selected wines, beers, soft drinks and water
3 days of awesome mountain bike trails 
Sundowner stop on Friday's ride
Water points: well catered water points on all rides 
Live music by Jacob & Taylor on Saturday night
Additional Options: 
Massage; 30 minutes at N$ 350 (pre-booking essential) 
Ride the Eronogos cycling shirt 
Email or call us to book your spot: info@aiaiba-namibia.com / +264 (0)61 239199
The Routes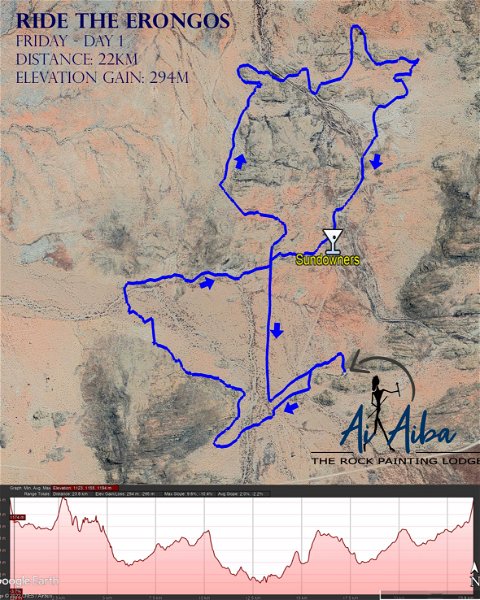 Friday - Day one
Friday evening ride is about enjoying the afternoon light as the sun lowers below the Erongo Mountains, easy going jeep track, followed by a Sundowner and an evening ride home.
Apart from one section towards the beginning of the ride, this is all on jeep track through some of the most stunning parts of the farm.
It should be fairly easy going with some nice fast flowing tracks to allow us as much time at the sundowner stop as possible.
Special trails to look out for on the day:
1st section of single track hugging the mountain to the left of the lodge. Stunning scenery popping out at Springbok Plains and beautiful views.
Licah Leopard Trail  - some brand new single track marked out by Micah Chase and Luke Fussell
Saturday - Day two
Although this is only 30km, this day is not to be underestimated.
There is a lot of new single track on this route and even though it is not very technical, it is slow going and requires constant concentration and effort.
All of these trails are absolutely stunning and should not be missed. Remember, we have the entire day, so let's make the most of it and spend as much time as possible enjoying them 😊
There are a few 'bailout' points on the route which will help those who have not done the necessary preparation:
Special trails to look out for on the day:
Romeo 's Trail : Our permanent trail builder, Romeo's 1st single track trail. Close to the start of the ride hugging the massive granite outcrops through some interesting river crossings, between some stunning boulders and offering some incredible views.
Leo's Loop: An optional extension up a spectacular granite outcrop. Over a couple of small purpose built bridges and some interesting downhill to get to back on the trails again. .
Kian's Trail: Not the most imaginative name but we've got to give him credit for the many hours he (and his mom and dad) spent out there in the hot sun exploring and marking out this stunning bit of trail.
Peter Pan: Peter van der Merwe and his team have put in a lot of effort and time designing and building our trails but this spectacular bit of downhill is what Peter is best at. It is flowing, fast, a bit hairy at times but so much fun.
Sunday - Day three
Sunday needs to be a little shorter, but we want the opportunity to allow you to ride some of the best single track on the farm.
We start off with the same route as Saturday but miss out on the grueling sandy jeep track of Moringa Valley and enjoy a new single track, which was named 'Shortcut' by Kian as this was a complete mistake and was meant to be a shortcut in a completely different part of the farm. It is very winding with some 180 degree bends to keep you on your toes.
After the water table we head out towards the back of the farm again to take another run at Peter's stunning downhill run before taking the easy route home.
Special trails to look out for on the day:
Shortcut: Lots of fun for all riders.
Peter Pan: too good to not do 2x!