Your Experience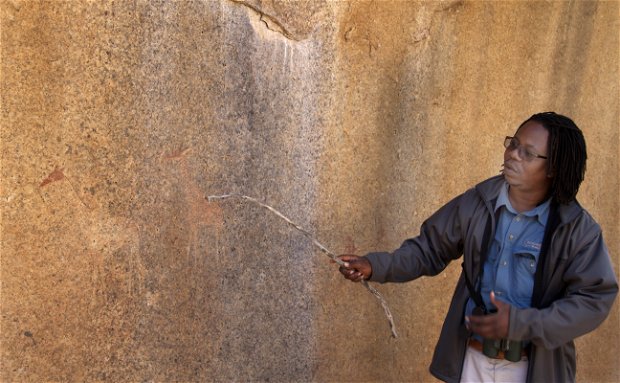 Three and a half hours from Windhoek you enter the Erongo Mountain Nature Conservancy. The gravel road to the Ai-Aiba -The Rock Painting Lodge is spectacularly flanked by the Erongo Mountain range. Massive boulders strewn across the landscape along side strange rock formations are remnants of an ancient volcanic complex.
The steep drive up to the lodge's main building already impresses. Elevated amongst giant boulders Ai Aiba lies like an oasis. We are welcomed with a refreshing ice tea. The high thatched roof restaurant which opens up onto the magnificent view of bush Savannah and the Erongo Massif is cool and welcoming. Our waitress Ruusa speaks a bit of Portuguese, German and perfect English and suggests I try the homemade burger and recommends a salad or pasta for my vegetarian companion. Pius the Assistant Manager informs us that we could do a short private or guided walk as an introduction to some of the renowned rock painting sites at Ai Aiba. We opt for a sunset nature drive and a walk the next morning.
The thatched African inspired chalets are made up of twin rooms and are set against towering granite formations. Large windows frame the distant Erongo foothills and invite the outside in. The room is very comfortable with a small lounge area and a tea and coffee station. I settle on my verandah with a book, taking in the sounds and smells of the bush. Lizards and rock agama are scurrying around as I look out over the wilderness. Mountain, desert and Savannah ecosystems converge in this surreal environment and rare and adapted plant, bird and animal life thrive here.
 Before leaving for sundowners we relax in the shade of the palms next to the pool and take our binoculars out to look down at some steenbok drinking at the watering hole. Our guide Kules welcomes us on a scenic drive but we are impressed by the amount of wildlife we encounter on our way to the first rock painting site. The late afternoon light adds an element of magic to this already otherworldly landscape. A dik-dik one of Namibia smallest antelopes is hiding in the shrub. Kules tells us this species is monogamous and we should look out for its mate. The birders on our vehicle spot three of the five species of Hornbills found at the lodge. A pair of Verreauxs' Eagles are catching thermals above the cliff hangs as we stop to look at some very rare fine-line rock art. The whitened image of two giraffe is at least 2000 years old, and according to our very knowledgeable guide, were a sign of  the presence of water. The area around the lodge has more than 204 identified sites which are incredibly well preserved.
We are taking the Moringa belt drive to our sundowner spot, so-called because of the stark presence of this strange shaped tree with its swollen base rising out of the rocky crevices. Kules explains that the tree is known for its medicinal properties and that the San people would collect its watery sap. An Oryx in the distance is framed by precariously balanced red rocks and some Hartmann's Mountain Zebra seem unperturbed by our presence. Our last stop is a rocky arch formation now glowing yellow in the late afternoon light. Ancient hunters with bows are depicted stalking kudu. It's the magic hour and the mountains in the distance are shaded in purple. The jagged rock faces and huge boulders are coloured in red and orange light and take on a different form. I can't imagine a better place for sundowner.
After a delicious dinner served with an excellent selection of wines, it's time for bed. I leave my curtains open and wake up to a show of early morning light as it touches and changes the rocky landscape. With a focus on nature walks guests are encouraged to explore the area on foot. We take a short hour hike close to the lodge. The walk can be done with or without a guide and we decide to set off on our own. The trail which is well marked goes past Rain Cloud Cave and Elephant Wall and delivers much more than we expect as we encounter four rock art sites. With more than 204 identified sites on the farm there is an incredible wealth of history and culture to discover. Trekking on foot through this incredible wilderness of rare adapted fauna and flora framed by precariously balanced boulders, is a reminder of the ancient relationship between man and nature.